LiftMaster Garage Door Opener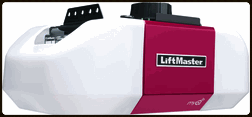 This garage door opener company exists in the market for 45 years now, providing top of the line products. Probably the most common opener in the market nowadays though it has its customers it is not of the highest reviews online. The Liftmaster with its new wall-mounted garage door opener is rediscovering your garage, allowing you to save more space and making it look cleaner and neat.
Why people choose Liftmaster?
24 Los Angeles Garage Doors Company is operating in the county for many years now and to be perfectly honest this is the lift master, the best at lifting highest durability, works perfectly quiet this is our best garage door opener for you. So why do people choose this garage door opener? Is it the battery backup? The security sensors? Who knows? After all, most garage door openers have the same features installed in them but this opener is by far installed in most houses, perhaps it's the reliability of the companies' which is running for many years now or even the magnificent design. Its only con is that it comes with only one remote garage door opener – but then again with the new featured app you can open your own garage door with your phone! Call us now at 323-694-2221 and we will install a new garage door opener at your house today!
Garage door opener installation
After installing the Liftmaster many times our technicians are quite used to it and will do it with no problems and at top speed. But if one is interested to do it by himself there are a few things he must know and check. For example – first be positive that the fault is in the garage door opener, than choose the right one for you and your garage door – you have 1/2 HP, 1/3 HP, 3/4 HP and more depends on your door, the heavier the door more power is needed! The installation of the motor itself must be done carefully and with the manual that comes with the engine a few tips: 1. Use a ladder to stabilize the opener 2. You will need an heavy angle iron 3. Don't be lazy, replace all the collateral components. 4. Check the door once finished, than go for the fine tuning! That's it!